Marsden Hartley, Rest Period, 1942-43
Stuart Davis, Still Life, 1921
This is a little-known, early still life by Davis.
Elie Nadelman, Acrobat, 1920
The Foundation has three bronzes by Nadelman in its collection.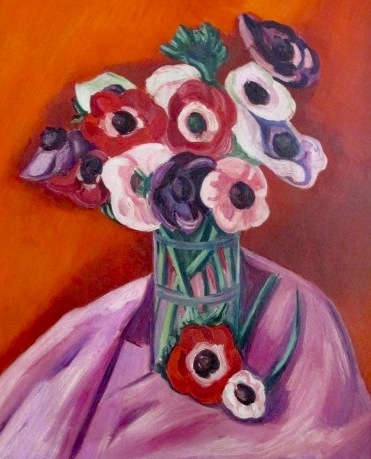 Marsden Hartley, Anemones, 1929
Gross purchased this important painting from art collector and dealer Dikran Kelekian circa 1960.
Raphael Soyer, Suzi, 1929
The Foundation has significant holdings of works by Raphael Soyer and his twin brother, painter Moses Soyer. Both were very close friends with Chaim Gross. The Foundation has 57 paintings, drawings and prints by both in its collection.
Jack Tworkov, Still Life, ca. 1935
This WPA-era painting by Abstract Expressionist painter Tworkov shows his early, representational style.
John Graham, Red Square, 1934
The Foundation has three paintings by Graham, who advised Chaim Gross on his collection of African art.
O. Louis Guglielmi, The Hungry, 1938
Federico Castellon, Heavenly Kiss, 1939
The Foundation has 29 works by Castellon, who was a close friend of Chaim Gross.
George Grosz, Nude, 1939
The Foundation has 11 works on paper by Grosz in its collection.

Milton Avery, Portrait of Chaim Gross, 1944
The Foundation has four paintings by Avery in its collection.
Robert Gwathmey, Woodcutter, c. 1945
This painting is one of 11 works by Gwathmey in the Foundation's collection.
Peter Busa, Turkish Moonbeam, 1950s
The Foundation has 12 paintings and drawings by Busa, who knew Gross in Provincetown, where both summered.
Jacob Lawrence, Valley Forge, 1954
This important painting by Lawrence is from his "Struggle...from the History of the American People" series.
Willem de Kooning, Untitled, 1959
De Kooning gave this painting to Gross when they were both working in Rome in 1959.
Roberto Matta, Untitled, ca. 1953
Gross acquired this Matta painting and its pendant in Rome in 1959.
Mimi Gross, Hat Shop Window, 1963
The Foundation has in its collection over 70 works by Mimi Gross (b. 1940), daughter of Chaim Gross.
Romare Bearden, Untitled
This watercolor collage is one of two works by the artist in the collection and is currently being researched for title and date information.
Benny Andrews, Portrait of Edwin Denby and Red Grooms, 1966
The Foundation has five works by Andrews, who was a friend of Chaim Gross.
Red Grooms, Movie and Screen Characters, 1971-73
The Foundation has 23 works by Red Grooms, who was married to Mimi Gross, daughter of Chaim Gross.
Complete list of artists from the U.S. and Latin America in the Collection:
(for collection inquires please email SashaDavis@rcgrossfoundation.org)
Yanco Adler
Samuel M. Adler
Irving Amen
Benny Andrews
Alexander Archipenko
David Aronson
B. Asiellon
Lillian R. Autnam
Milton Avery
Eugenie Baizerman
Kimberly Barasch
Leonard Baskin
Romare Bearden
Ben-Zion
Saul Berman
Eugene Berman
G. Bernstein
Theresa Bernstein
Michael Biddle
Arbit Blatas
Peter (Abraham) Blume
Henry Botkin
Alexander Brooks
M.W. Brown
Byron Browne
George Elmer Browne
Harold Putnam Browne
Paul Burlin
Peter Busa
Reginald Butler
Alexander Calder
Victor Candell
Rhys Caparn
Sylvia Carewe
Moshe Castel
Federico Castellon
Giorgio Cavallon
Nicolai Cikovsky
Antoni Clave
George Constant
Lovis Corinth
Francis Criss
R. Crowell
Carmen D'Avino
Stuart Davis
Jose de Creeft
Julio de Diego
Willem de Kooning
Adolf Dehn
Alexander Dobkin
Stuart Edie
Louis Michel Eilshemius
Eliot Elisofon
Harry Engel
Jacob Epstein
Philip Evergood
Remo Farruggio
Lyonel Feininger
Tully Filmus
John B. Flannagan
Joseph Floch
John Frank
Antonio Frasconi
Victor Joseph Gatto
Harold C. Geyer
Ruth Gikow
Allen Ginsberg
Edward Giobbi
Sidney Goodman
Richard Goodnough
Arshile Gorky
Bernard Gotfryd
Adolph Gottlieb
Harry Gottlieb
Lorrie Goulet
John D. Graham
Marion Greenwood
Peter Grippe
Red Grooms
William Gropper
Mimi Gross
Moshe Gross
Fannie Gross
Inger J. Grytting
O. Louis Guglielmi
James Guy
Robert Gwathmey
Dimitri Hadzi
Jules Halfant
Hananiah Harari
Lily Harmon
Zev Daniel Harris
Marsden Hartley
Charles Hawthorne
Milton Hebald
Joseph Hirsch
William Hogarth
Carl Holty
Gerrit Hondius
John Hultburg
Leo Jackinson
Yehuda Jordan
Susan Kahn
John Kay
Nathaniel Kaz
Earl Kerkam
Jules Kirschenbaum
Sue Kleinman
Karl Knaths
Benjamin Kopman
Leon Kroll
Walt Kuhn
Yasuo Kuniyoshi
Ibram Lassaw
Robert Laurent
Jacob Lawrence
Lawrence Lebduska
Rico Lebrun
James Lechay
Jack Levine
Benjamin Levy
Edgar Levy
Jacques Lipchitz
Goldie Lipson
William H. Littlefield
Louis Lozowick
Bruno Lucchesi
Paul Manship
Leo Manso
Irving Marantz
Boris Margo
Herman Maril
Reginald Marsh
Roberto Matta - Chilean
Jan Matulka
Lily Michael
Jay Milder
Bruce Mitchell
George L.K. Morris
Charles Morse
Dorothy Moust
Seong Moy
Elie Nadelman
Barbara Neustadt
Louise Nevelson
Arnold Newman
Elsie Orfuss
Jose Clemente Orozco
Robert Andrew Parker
Philip Pearlstein
I. Rice Pereira
Mark Perper
Robert A. Poke
Walter Quirt
Abraham Rattner
Bernard Reder
Ruth Reeves
Diego Rivera
Larry Rivers
James Rizzi
Hugo Robus
Gisela Roessiger
Herman Rose
Bob Rosenthal
Norman Rubington
Lloyd M Rucker
Martha Ryther
Louis Schanker
Boris Schatz
Ilya Schor
Karl Schuag
Ladislas Segy
Ben Shahn
David Shapiro
Charles Sheeler
Mel Silverman
Sidney Simon
David Alfaro Siqueiros
Joseph Solman
Moses Soyer
Raphael Soyer
Stephen Spector
Nicolas Sperakis
Theodore Stamos
Peter Stander
William Steig
Joseph Stella
Harry Sternberg
Maurice Sterne
Edward John Stevens
Rufino Tamayo
Henry O. Tanner
Sabina Teichman
Gunther Temech
Robert Tisch
Jennings Tofel
Mandel Tolegian
R. P. Tolman
Anthony Toney
Joyce Treiman
Nahum Tschacbasov
Jack Tworkov
Alfredo Valente
Stuyvesant Van Veen
Anthony Velonis
Ruth Vodicka
Abraham Walkowitz
Carl Walters
Andy Warhol
Max Weber
Carol Weinstock
Warren Wheelock
Sol Wilson
Nicholas Wolfson
Jack Zajac
Karl Zerbe
Laura Ziegler
Ben-Zion
William Zorach
Marguerite Zorach